เครื่องพิมพ์ HANDJET EBS-250
Innovative technology and the pioneering imagination of EBS engineers make the HANDJET ® printer a true work titan. A print height of 8 mm (matrix 5 × 5) to 29 mm (matrix 16 × 10) makes it the most versatile portable printer ever made. You can take it everywhere with you.
Printer support could not be more convenient. Data is sent to the printer via a Bluetooth ® wireless network . The 2-digit display shows the used print design. The function key allows you to quickly change between available projects. Innovative battery management enables continuous printing of up to 50 hours on a single charge cycle.
Prints quickly, cleanly and legibly – even over the head, all at the touch of a trigger. The intelligent guide roller automatically adapts to your printing method. Easily correcting a printing error when the printer is stopped or undone.
110 ml of ink is enough to write about 110,000 characters (matrix 7 × 5) or about 18 000 characters (matrix 16 × 10).
Reliable printing.
For most every surface.
Whatever surface needs to be marked or coded, the Handjet EBS-250D will print precisely and
clearly. Concrete, metal, glass, textiles, plastic, cardboard or wood.
You name it…the Handjet EBS-250 can mark it.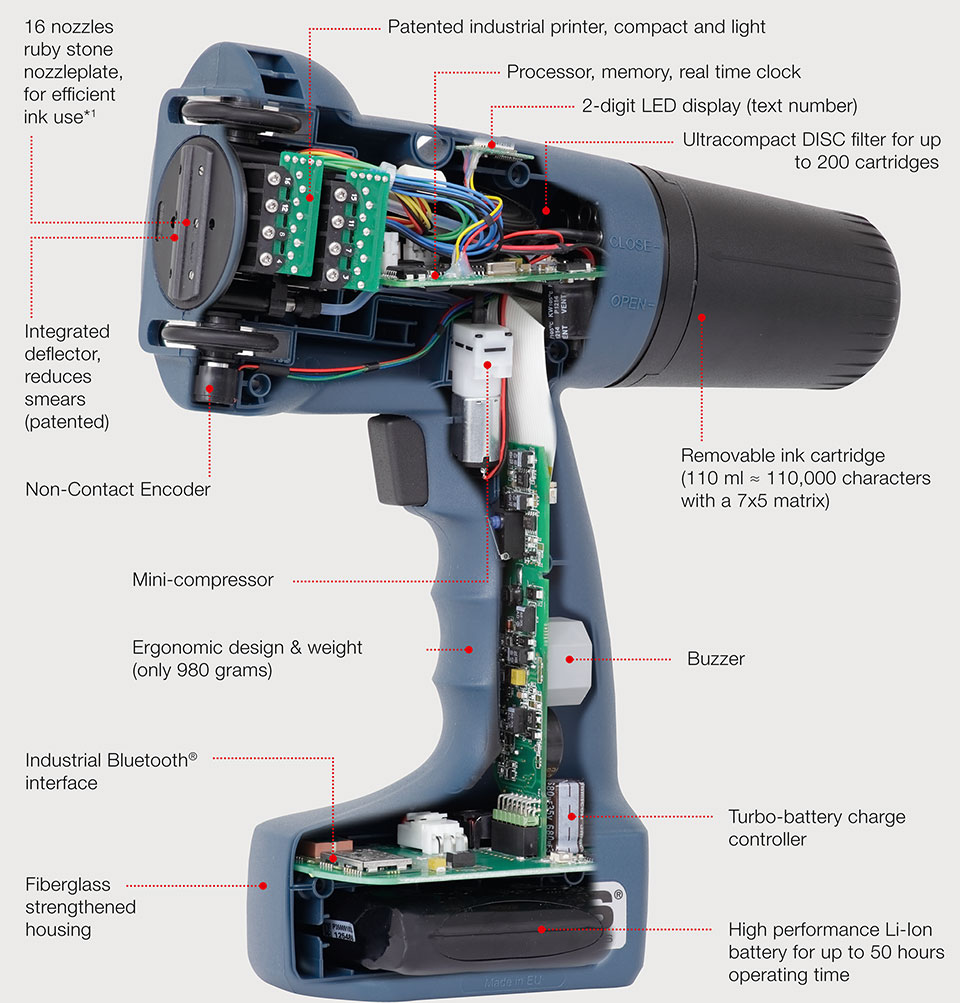 Included
– Transport case
– Printer HANDJET EBS-250D
– Spray bottle (empty)
– Power supply 24V/1A
– CD-ROM withuser software and manual
– Industrial Bluetooth® USB-stick
For every purpose the right ink:
Different surfaces, different areas of operation, different inks: printing on concrete requiers e.g. different ink as foodgrade ink. Dark backgrounds require lighter pigmented inks, particularly smooth surfaces require especially quick-drying, adhesive colour.