Do You Have A Recycle Project We Can Help With?
BIBKO® – The expert in the field of leftover readymix and wash water recycling for the readymix, precast and concrete goods industry.
A BIBKO® – Recycling system offers the complete solution for leftover readymix recycling. The system reclaims aggregates and cementitious water for reuse in the production process. This allows an environmental friendly "zero waste" solution to overcome the problem of leftover readymix and washwater disposal. It can be used in readymix, mortar and anhydrite plants.
A knowledgeable team of engineers with over 30 years of experience and more than 1.600 installations worldwide is available to ensure a customized solution to suit the needs. To do so BIBKO® provides full technical support before and after the installation.
Overview of BIBKO® recycling systems
READY-MIX INDUSTRY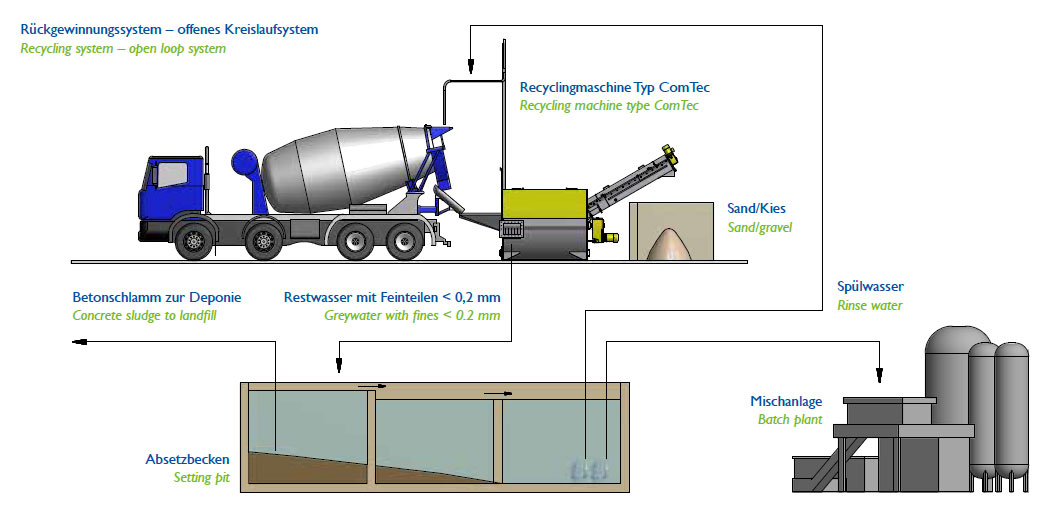 With a reclaiming system the aggregates (crushed or river stones) contained in the leftover readymix together with the sand can be recycled and reused in the batch plant. The water is led to settling pits and can be reused in the batch plant, too. The settling fines have to be dug out and disposed. A reclaiming system is an open loop system.
A recycling system provides a closed loop system and consists of a reclaimer and a system to reuse the water. With a recycling system the sand and aggregates as well as the greywater are reused in the batch plant. There is no material leftover to dispose and therefore a zero discharge solution.
Recycling systems are used in addition to the ready mix concrete industry in the precast and concrete goods industry. In this case the requirements are different in comparison to the requirements in the ready mix plant. Lies the main focus on the recycling of the residual material in the ready mix concrete plant, so the focus is primarily in the precast and concrete goods industry in the field of treatment of excess wash water.
Excess water which can not be used directly in the mixing process is clarified here, so that clean water is available. This can be used in the production process or discharged after treatment into the canalisation.
The produced sludge during wastewater treatment process is also used as far as possible again in the mixing process to form a closed circuit. If the amount of produced sludge may be greater than the usable amount in the mixing process, so the system can be supplemented with a chamber filter press.
At vero eos et accusamus et iusto odio dignissimos ducimus qui blanditiis praesentium voluptatum deleniti atque corrupti quos dolores et quas.
Error: Contact form not found.